Silver MM Fox/Flokati Shag Faux Fur (CUSTOM RUN PREORDER)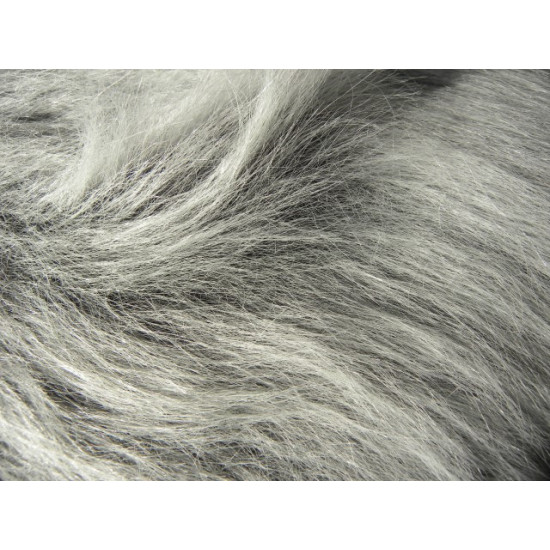 Out Of Stock
Silver MM Fox/Flokati Shag Faux Fur (CUSTOM RUN PREORDER)
Availability:

Out Of Stock

Model:

SILVR-FLKT
Silver Flokati Shag is up for preorder again! This time, we need 200 yards preordered in order to start production. The preorder rate will be $26/yd, with more available at a higher rate after production is completed.
Progress: 54/200 yds (Please note: This number does not update in real time)
Please note, once the goal is reached, production will take about 2-4 months. Want to see the full custom run terms? Click here.
Thank you for looking! Click the 'preorder now' button to preorder today (this will take you to our Celery page where you can preorder the fur).
This is a highly realistic, very long silvery faux fur with a dark gray undercoat from Monterey Mills. Commonly referred to as MM fox fur (or just fox fur) and is usually used in more realistic suits, or for long fur accents or tails on toony suits. This particular fur also produces a beautiful dark to light gradient when shaved down.
Want to purchase a half yard? Simply enter "0.5" in the quantity box and add the item to your cart. You can also enter 1.5, 2.5, 3.5, etc depending on how many yards you would like. Any number ending in .0 or.5 is acceptable.
This gray is a FursuitSupplies.com exclusive color - that is, as it stands, you will not be able to purchase this fur from any other online retailer, as it was developed exclusively for our store.
This fur has a 3-3.5" pile, and is much denser than fun fur. It is also very wispy and straight, unlike Mongolian fur which is similar in length. Comes in 1 yard and 1/2 yard increments; yards are usually 58-60" wide.
Faux Fur Qualities
Stock Type
Custom Run
Pile Length
4"
Average Width
58-60"
Color
Gray